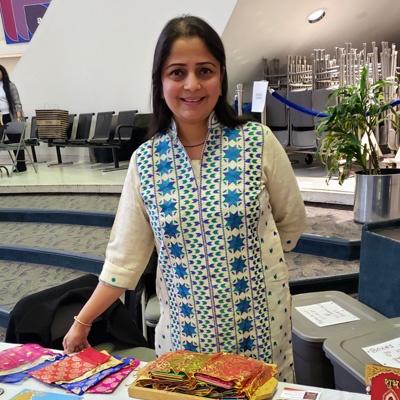 Nisha Mehta
Nisha Mehta also known as Radha origins from Mumbai, India. She graduated from the University of Mumbai and immigrated to Canada in 2004 with her husband and son. Her daughter was born in 2005.
Radha joined Bank of Montreal and worked there for 5 years. Her inner calling was always for arts as being a very creative person, she felt the need to bridge the gap by providing artistic items used for weddings and festivals. This compelled her to open her own business called "Radha's Creation". Through this, she makes authentic traditional handmade rangoli, floating candles, and diyas, kankavati, money envelopes etc. for Indian festivities such as Diwali, Rakshabandhan(Rakhi), etc.
She orders raw-materials from India and uses her creativity to its limit to make carefully crafted pieces of art. She uses pearls, kundan, colourful stones, ball chains, diamond chains etc. to create beautiful traditional pieces. The artists by passion and profession, she first decorating her own home and now with her business, this has helped her to supply artistic items to many homes. Radha believes that if you have passion for Art, then you must continue to pursue it.